December 29, Fifth Day in the Octave of Christmas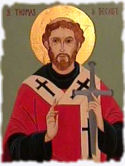 Given the tempo of the liturgical season with its feasts it is easy to overlook that one saint who for many centuries was, after Mary and Joseph, the most venerated person in European Christendom.
St. Thomas Becket, Archbishop of Canterbury was assassinated in his cathedral on December 29, 1170 because of his opposition to his former friend, King Henry II of England, who was encroaching on the liberties of the English Church.
Devotion to him spread like wildfire. He was enshrined in the hearts of men, and in their arts. In statues and stained glass, in song and story this good bishop was everywhere to be found: France, Italy, Spain, Sweden. Many miracles were attributed to his heavenly advocacy.
— Excerpted from Days of the Lord
SOURCE: CatholicCulture.org