Given this week's readings, last week's guest priest from Africa and my own inner turmoil about what I should be DOING to help people . . . . my lunch today with my friend, Bridget, left me reeling.
While we were eating lunch why did I bring up this week's reading? I don't remember how we got to that. We were talking about how good the
Panera Bread Bakery-Cafe
meal was, how her son liked his new school, how our homeschooling was going, the new Chevy she was test driving, my home business . . . . .
Suddenly we were talking about -- in essence --
John 15:12
and
Matthew 25:31-46
and
James 2:8,14-17
.
I think it went kind of like this ---
I asked Bridget about her neighbor who has a wonderful blog that I peek in on now and again . . . hadn't been there in awhile (obviously). It turns out that the woman (Kristen) recently traveled to Africa and came back . . . well . . . changed. She saw her lifestyle in a new and uncomfortable light. Let me interject that this woman is a frugal lady. She has a frugal family. I would not consider her wealthy.
Read this entry in her blog,
The Question I was Afraid to Ask
, and then read,
Today I Went to Hell.
Then come back . . . . . please.
If you have time, read all about her trip to Africa and her family's endeavor called Mercy House.
btw) Kristen and Bridget are the women who told me about Katie, a 19 year old who moved to Uganda and has
adopted 14 orphans. She is in her early 20s. Here is
a recent entry
from her blog, Kisses from Katie. Here is the
story of Grace
, her 12th child. Scroll down the "Merry Christmas" message :-)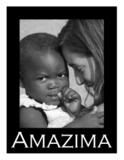 These are some of the random thoughts bouncing around in my head:
What we have and desire to have can separate us from God and our neighbor.
and
I think there are many saints among us and I don't see them because I am too wrapped up in my fears and "busyness" and my pride. I would not be surprised if this Katie was one of those saints.
and
Each of us in some way will be judged by the mercy we show to the poor.
and
It is easy to develop an
indifference to the suffering --- it is wrong --- it is a trap of Satan.
and
So, what do I do next? I guess publish this post then go pray and listen (repeat) . . . . .